Perform research from hundreds of full text science encyclopedias, reference books, periodicals, and other reliable sources. View more than 280,000 high-quality science images from sources such as UPI, Getty, NASA, National Geographic and the Nature Picture Library. A POWERLibrary Resource.
New courses start monthly.  Each course is taught by professional instructors. 375+ courses are available on a broad range of interests and topics.  Purchased by Seneca District.
NEW!!!  Tutorials for POWERLibrary resources,
other common library resources,
plus useful computer and other skills!
With broad coverage of agriculture and its related fields, this collection provides a comprehensive view of a growing body of knowledge. Researchers will have access to current and authoritative periodical content that spans the industry—from practical aspects of farming to cutting-edge scientific research in horticulture. A POWERLibrary Resource.
Discover the most accurate, authoritative and up-to-date service and repair information for thousands of domestic and imported vehicles. All content comes from the Original Equipment Manufacturers (OEM) and includes step-by-step repair information, diagrams, maintenance schedules, parts and labor estimates, service bulletins and recalls. A POWERLibrary Resource.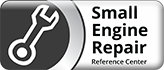 Find detailed repair guides for all types of small engines. Offers assistance in providing routine maintenance (tune-ups, brake service) as well as extensive repairs such as engine and transmission disassembly. Search by product type, brand, model/engine type, specific area of model/engine type and model numbers. A POWERLibrary Resource.
Answers inquiries about environmental concerns with coverage of more than 5.4 million articles from more than 300 journals and book reference content from Delmar, including Soil, Science, and Management; Introduction to Agronomy; Food, Crops, & Environment; Fundamental Soil Science; and more. A POWERLibrary Resource.
Serves horticultural enthusiasts of all levels with more than 3.6 million articles from more than 100 journals, as well as more than 20 reference titles. A POWERLibrary Resource.
Researchers can remain current with the latest scientific developments in particle physics, advanced mathematics, nanotechnology, geology, and hundreds of other areas. A POWERLibrary Resource.
This comprehensive e-resource draws on the connections between the environment and a variety of disciplines such as agriculture, education, law, health and technology. A POWERLibrary Resource.
Provides access to authoritative periodical content supporting research in all fields of psychology— abnormal, biological, cognitive, comparative, developmental, personality, quantitative, social and all areas of applied psychology. Researchers, psychologists, counselors, and behavioral scientists will discover relevant information from the thoughts, views, discoveries, and reports found in this comprehensive collection. A POWERLibrary Resource.