Fomerly GVRL, this specialized reference and informational eBooks includes medical and mental health, self-help, finances, cookbooks, diet and exercise, business and marketing information, and much more.  These materials, previously only available in the library, are now online from the library or remotely 24/7, and allow multiple users to access any of the books at any time – no checkouts or holds required.  Because each library creates its own eBook collection, the content you see may vary if you use the database at different libraries (your school, your public library, or your office).  Titles are purchased and managed by both Seneca District Libraries and POWERLibrary.
New courses start monthly.  Each course is taught by professional instructors. 375+ courses are available on a broad range of interests and topics.  Purchased by Seneca District Libraries.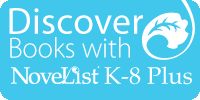 is a database about books specifically for younger readers. It helps kids find books that are just right for their reading level and interests. Parents, teachers, and librarians can also find tools to teach with books and engage young readers.
NEW!!!  Tutorials for POWERLibrary resources,
other common library resources,
plus useful computer and other skills!
Elementary students in kindergarten through grade five will find age-appropriate content covering a broad range of educational topics such as animals, arts, geography, health, literature, people, social studies, technology, etc. A POWERLibrary Resource
Learn how to be a safe, responsible, and smart citizen with these eBooks that teach you how to avoid predators, play games safely online, protect your privacy, and use social networks.  A POWERLibrary Resource
Watch videos and read books about Animals and Nature, Earth and Sky, People and Places, ABC's and 1, 2, 3's, Family and Community, Music and Rhyme, Adventure, and more. Enjoy read aloud with words highlighting and interactive games. Some films and books are available in Spanish too!  A POWERLibrary Resource
Learn about people, places, nature, history, and science from videos and eBooks on topics such as American Indians, Ancient Civilizations, Farm to Table, The Civil War, Continents, The Thirteen Colonies, U.S. Government, Disasters, Earth Science, Experiments, Extreme Science, Nature, and many more.  A POWERLibrary Resource

Unique portal to childrens' POWERLibrary resources.

Unique portal to teen's POWERLibrary resources.

The Mission of the Warren County School District is to educationally empower all students to think critically and solve problems through a rigorous curriculum that will provide them with the skills necessary to graduate and pursue a career of their interest.
ODR, The Office for Dispute Resolution, provides resources for parents and educators to resolve their special education disputes.  Just one of these resources is their tool free ConsultLine, available at 1-800-879-2301.
Access much more on our Children's Department page, where additional resources are compiled by our Children's Librarian!