New to Genealogy Research or looking to write your autobiography (even just for your family)?  Look no further for learning than one of our Gale Courses- free for you!  Look in the family category!
New courses start monthly.  Each course is taught by professional instructors. 375+ courses are available on a broad range of interests and topics.  Purchased by Seneca District Libraries.
Genealogical resource provides access to billions of historical documents, millions of historical photos, plus local narratives, oral histories, indexes and other resources in over 30,000 databases that span from the 1500s to the 2000s.
NEW: TO ACCESS REMOTELY/FROM HOME/OUTSIDE YOUR LIBRARY, CLICK HERE!!!!  Call the Reference Department for Login Password.  Provided by Libraries of Warren County.  
Online access to the complete set of US Federal Census Records from 1790 to 1930, over 25,000 family and local histories, over 1.6 million genealogy and local history articles, and selected records from Revolutionary War Era Pension and Bounty-Land Warrant Application Files.  Provided by Libraries of Warren County.  

Provides searchable access to more than 300 hundred years of local historical newspapers dating back to the 17th century. NewspaperARCHIVE Library Edition contains more than 130 million digitized pages of content from over 6,000 newspapers throughout North America, the UK, and other select countries worldwide. Attention:  This resource is now available remotely with your library card as well as in any of our libraries! They have improved their interface- After entering your library card number, register with a personalized username and password to easily save clippings and few articles that you can retrieve anytime.

Formerly known as GVRL, GALE eBooks provides specialized reference and informational eBooks including medical and mental health, self-help, finances, cookbooks, diet and exercise, business and marketing information, and much more.  These materials, previously only available in the library, are now online from the library or remotely 24/7, and allow multiple users to access any of the books at any time – no checkouts or holds required.  Because each library creates its own eBook collection, the content you see may vary if you use the database at different libraries (your school, your public library, or your office). Titles are purchased and managed by both Seneca District Libraries and POWERLibrary.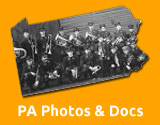 Explore thousands of digitized documents and photographs from unique collections in libraries across Pennsylvania. You'll be amazed by what you find!  A POWERLibrary Resource.
Discover biographical and bibliographical information on more than 160,000 of today's most influential authors, including: Novelists, Poets, Playwrights, Nonfiction writers, Print & broadcast journalists, Editors, Photojournalists, Syndicated cartoonists, Scriptwriters, Screenwriters.A POWERLibrary Resource.
Provides access to scholarly journals and magazines useful to both novice historians as well as advanced academic researchers. Updated daily, this library resource offers balanced coverage of events in U.S. history and scholarly work being established in the field. A POWERLibrary Resource.
Provides access to scholarly journals and magazines useful to both novice historians as well as advanced academic researchers. The database offers balanced coverage of events in world history and scholarly work being established in the field. A POWERLibrary Resource.
NEW!!!  Tutorials for POWERLibrary resources,
other common library resources,
plus useful computer and other skills!
Curated Internet Resources (FREE)
In addition to paid subscription resources, here are some free internet resources you may find useful.  These links are provided for your convenience. They are not maintained by the Warren Public Library. We are not responsible for their content. As with any information you may encounter on the Worldwide Web, please remember that it may not be accurate. Always document any information you use with a reputable source.
Warren County Historical Society
http://www.warrenhistory.org/
Located at 210 Fourth Avenue in Warren, PA, the Historical Society has many useful local resources of interest to genealogists. They also have a card file index for newspaper clippings, family donations and other local historical items. "Stepping Stones," the local society's magazine, is published 3 times each year.
Search America's historic newspaper pages from 1789-1963 or use the U.S. Newspaper Directory to find information about American newspapers published between 1690-present. Chronicling America is sponsored jointly by the National Endowment for the Humanities and the Library of Congress.
A Review of DNA Kits (August 2020)
Afrigeneas: African Ancestored Genealogy
http://www.afrigeneas.com/
African-based genealogy forum includes surname databases, slave ship logs, census reports beginning in 1840, a Beginner's Guide, and chat rooms.
An American Adventure
http://www.phillipsplace.net/genealogy/
Index to a collections of surnames linked to genealogical records. Index includes geographic access.
ARIAS (Pennsylvania's Digital State Archives)
http://www.digitalarchives.state.pa.us/archive.asp
The Archives Records Information Access System (ARIAS). Designed to facilitate citizen access to archival records created by all branches and levels of Pennsylvania State Government. Records currently online or in the process of being digitized include service medal application files from World War I and veteran's records from military campaigns as far back as 1775.
Caroline Hampton from OpenEducators.org- suggested genealogy links
Cemetery Records Online
http://www.interment.net/
2.5 million records from over 4400 cemeteries worldwide.
Cyndi's List of Genealogy Sites on the Internet
http://www.cyndislist.com/
Over 73,000 links that are categorized by type or geographic region. Cyndi's webpage has a great reputation for being well maintained.
Dear Myrtle's Daily Genealogy Column
http://www.dearmyrtle.com/
Current articles, news, and links of genealogical interest https://blog.dearmyrtle.com/.
Family Search
http://www.familysearch.org/
Family Search is a search engine created by the LDS (Church of Jesus Christ of Latter Day Saints) that allows you to search their Ancestral File, International Genealogist Index, and Pedegree Resource File using first and last names. It will also allow you to search for web sites (by last name only).
Family Tree Magazine
http://www.familytreemagazine.com
A bimonthly publication offering excerpts from the print edition, Ethnic Toolkits, tips for researching ethnic and immigrant heritage, downloadable research forms and links to 101 genealogy web sites. Visitors can also subscribe to the free online newsletter.
Family Tree Searcher
https://www.familytreesearcher.com/
Search family trees at eleven online family tree databases by entering your ancestor information just once. This free service creates the best family tree searches based on your ancestry.
FindaGrave
https://www.findagrave.com/
Find the graves of ancestors, create virtual memorials or add photos, virtual flowers and a note to a loved one's memorial. Search or browse cemeteries and grave records for every-day and famous people from around the world.
About Genealogy
https://www.thoughtco.com/genealogy-4133308
A wealth of features useful for searching maps, census resources, wills and property records, countries, ethnicity and famous ancestors.
Access Genealogy
https://accessgenealogy.com/
AccessGenealogy.com contains the largest collection of free genealogy for your United States research. Find hundreds of thousands of free websites with billions of names you can use to further your family genealogy! Specifically, we provide sources for birth records, death records, marriage records, census records, tax records, church records, court records, military records, historical newspapers, cemeteries, and ethnic records. We also provide some historical details about different times and people in America's history. Our specialty, however, is Native American genealogy and research.
GenealogySpot
http://www.genealogyspot.com
Categorized gateway to online genealogy resources for novices and experienced genealogists alike
Genealogy Today
http://www.genealogytoday.com
Excellent gateway to online genealogy resources. Offers a primer on family research, special tools for family historians, a Jr. section for children tracing their family tree and other unique features.
National Genealogical Society
http://www.ngsgenealogy.org/
Offers leads to a collection of useful topics, including Immigration Research, an online course about how to conduct your research, numbering systems used in genealogy, the National Geographic Hall of Fame.
National Archives and Records Administration Genealogy Page
https://www.archives.gov/research/genealogy
FAQs, hints, and links for accessing historical and census data from the National Archives. Also links for accessing individual military records and military unit histories.
PaGenWeb: Pennsylvania Genealogy – Warren County
www.pagenweb.org/~warren/
This site is part of the USGenWeb Project and is the State resource for Pennsylvania research.
Rootsweb:
https://www.rootsweb.com/
"Rootsweb is the oldest and largest FREE genealogy site." Even though this site is now sponsored by MyFamily.com, it is still free. Rootsweb is a great place for novices and experts alike.
The Soundex System
https://www.archives.gov/research/census/soundex.html
"The Soundex is a coded last name (surname) index based on the way a name sounds rather than the way it is spelled. Surnames that sound the same, but are spelled differently, like SMITH and SMYTH, have the same code and are filed together. The Soundex coding system was developed so that you can find a surname even though it may have been recorded under various spellings. Knowing a surname's Soundex code is an important first step in research using NARA's census microfilm holdings (1880-1920)."
SurnameWeb
http://www.surnameweb.org
Millions of surname records and genealogy links.  Free web space to post your own photos and family tree. Includes message boards and chat rooms and Cyberoots, an online journal. Essays cover book recommendations, web resources, obtaining and interpreting government records and more.
Vital Records Information for Pennsylvania
http://vitalrec.com/pa.html
This site contains information on how and where to obtain vital records at the state and county levels. It also includes a link to other states.